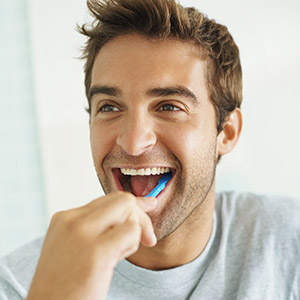 Forty years have passed since the first reported case of Acquired Immune Deficiency Syndrome (AIDS), and it and the human immunodeficiency virus (HIV) that causes it are still with us. About 1.2 million Americans are currently infected with HIV, with 50,000 new cases diagnosed each year.
The emergence of antiretroviral drugs, though, has made it possible for many with HIV to live normal lives. Even so, the virus can still have a profound effect on health, including the teeth and gums. Because of its effect on the immune system, HIV+ patients are at greater risk for a number of oral conditions, like a fungal infection called candidiasis ("thrush").
Another common problem is chronic dry mouth (xerostomia), caused by a lack of saliva production. Not only does this create an unpleasant mouth feel, but the absence of saliva also increases the risk for tooth decay and periodontal (gum) disease.
The latter can be a serious malady among HIV patients, particularly a severe form of gum disease known as Necrotizing Ulcerative Periodontitis (NUP). With NUP, the gums develop ulcerations and an unpleasant odor arising from dead gum tissue.
Besides plaque removal (a regular part of gum disease treatment), NUP may also require antibiotics, antibacterial mouthrinses and pain management. NUP may also be a sign that the immune system has taken a turn for the worse, which could indicate a transition to the AIDS disease. Dentists often refer patients with NUP to a primary care provider for further diagnosis and treatment.
Besides daily brushing and flossing, regular dental cleanings are a necessary part of a HIV+ patient's health maintenance. These visits are also important for monitoring dental health, which, as previously noted, could provide early signs that the infection may be entering a new disease stage.
It's also important for HIV+ patients to see their dentist at the first sign of inflamed, red or bleeding gums, mouth lesions or loose teeth. Early treatment, especially of emerging gum disease, can prevent more serious problems from developing later.
Living with HIV-AIDS isn't easy. But proper health management, including for the teeth and gums, can help make life as normal as possible.
If you would like more information on dental care and HIV-AIDS, please contact us or schedule an appointment for a consultation. You can also learn more about this topic by reading the Dear Doctor magazine article "HIV-AIDS & Oral Health."